Enrichment
Enrichment is an important part of life at Rockingham Primary.
Our Enrichment Team
Our children have the opportunity to participate in a range of extra-curricular activities during their time with us at Rockingham.
Enrichment is a key driver for both our school and our academy sponsor – David Ross Education Trust. We provide a broad range of enrichment opportunities - Sports, the Arts and Culture - as we firmly believe that these opportunities have many benefits for our children, both academically and personally by broadening their life experiences.
Please have a look at our personal development calendar for the current academic year. This is updated termly.
At Rockingham Primary we believe enrichment helps to develop the following skills:
Determination to succeed
Teamwork
Winning and losing with grace
Respect for others
Tolerance
Self Confidence
A sense of fun and enjoyment
Creativity
Focus and attitude
Awareness of health and wellbeing
Academies across the Trust are encouraged to work collaboratively to make the most of the opportunities on offer.
What has this included this year?
Autumn Term 21
DARE programme for Y5 September - December
"Peer pressure is when someone, who is similar in age to you, tries to get you to do something you do not want to do."
Y5 pupil
National Poetry Day October 21
"If you read our poem Refugees from top to bottom, it sounds like refugees are not working. When you read it from bottom to top, then you realise that the refugees are working. Everyone who comes to the UK should have the right to work."
Y6 pupil
Coding taster session Classes 11 and 12
"I enjoyed every second of the lesson because I was always interested in how games were made. The Kodu lesson taught me a lot about coding." Y6 pupil
KS1 trip to St Columbas Church
Roman day LKS2
Animation workshop Class 10
"I enjoyed learning about the Corby Pole Fair and the different events which used to happen. It was fun working with my group to animate one of these."
Y5 pupil
Children in Need
"I was excited as Pudsey Bear has not been to our school before."
Y3 pupil
NSPCC Speak out Stay Safe
"Every child should have food, water and a place to live. Without food and water you would not be able to survive."
Y6 pupil
Online Safety workshops with Simon Aston from NCC
"Block, report and tell a trusted adult if anything happens that makes you feel sad."
Y5 pupil
"I now realise why is it so important to double check everything you read on the internet so that you can be sure the information is genuine."
Y6 pupil
Christmas Song Competition
LKS2 Christingle service at St Columbas church
"I enjoyed learning about what the different parts of the Christingle represent."
Y4 pupil
DRET Santa Run
EYFS Nativity
Spring Term 22
Y4 Guitar lessons with Mr Armson
"I know a guitar has different parts. It has a body, a neck and a head but does not have arms or legs."
Y4 pupil
Mental Health Monday
"Different colours can mean different feelings."
Y1 pupil
We might choose different colours depending on how we feel."
Y1 pupil
UKS2 visit to the National Holocaust Centre in Newark
"Leo's journey was really sad. It is important that we remember how the Jewish people were treated during World War 2."
Y5 pupil
Safer Internet Day
"Games have age ratings to keep us safe."
Y3 pupil
"If we see anything online which makes us feel unsure, we need to tell a trusted adult who will help us."
Y2 pupil
Children's Mental Health Week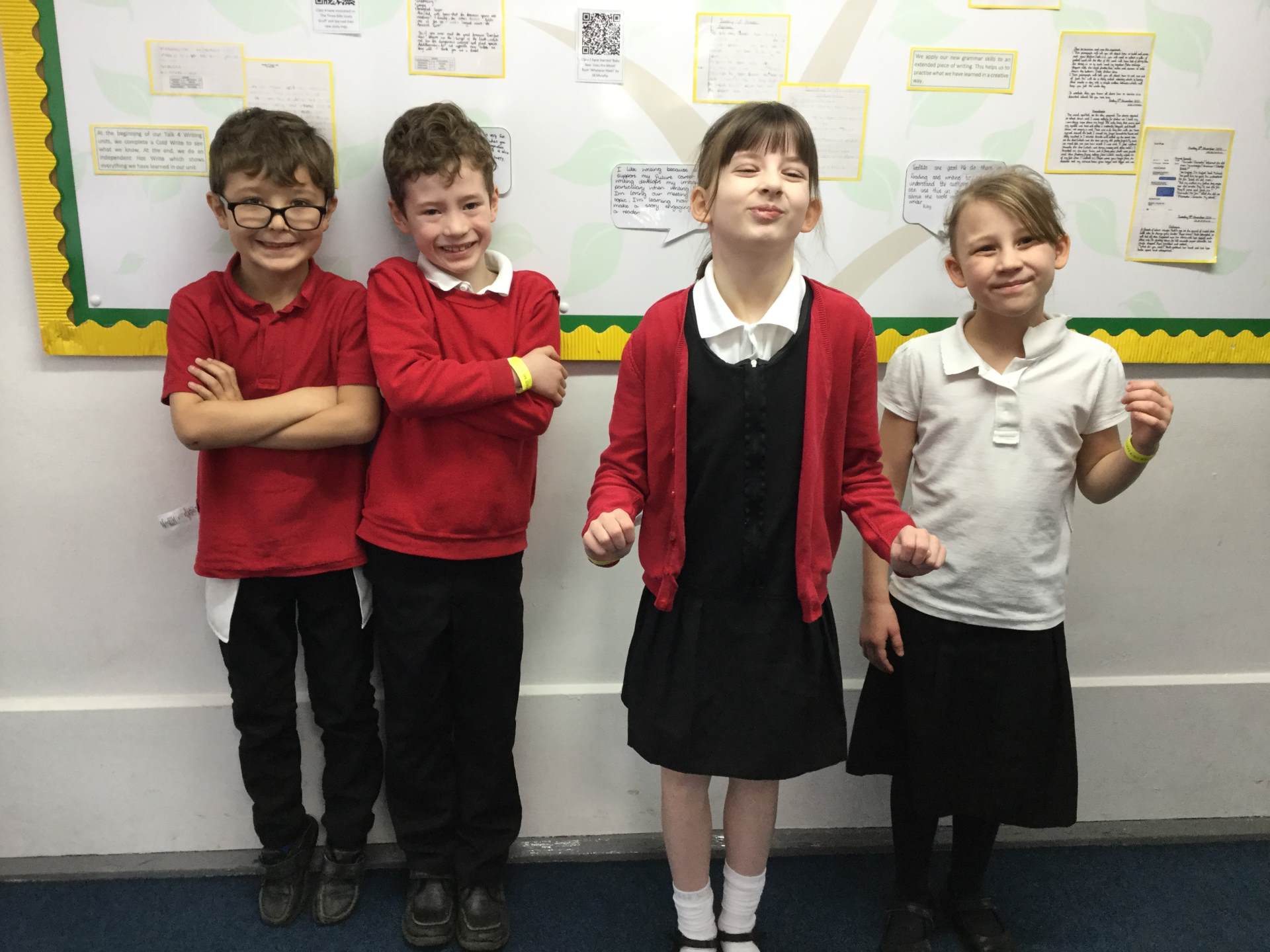 "Everyone should know about mental health. It is as important as physical health."
Y4 pupil
"We are wearing our clothes inside out to remind everyone that feelings are on the inside so you can't always see how someone is feeling just by looking at them."
Y3 pupil
"It is important that everyone has a group of trusted people who can help them when things get tough. Then we are able to be more resilient and to keep going towards our goals."
Y6 pupil
View our latest tweets